Walt Disney's Mickey Mouse Vol. 7: "March Of The Zombies" (Hardcover)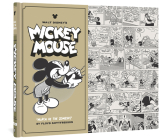 Description
---
In the latest volume of Mickey Mouse's classic newspaper strip adventures, it's WWII, and our plucky adventurer has to fight zombies!
It's World War II, and Uncle Sam wants Mickey Mouse's "'Lectro Box," an amazing ray cannon that can shapeshift living matter! But also hot on Mickey's trail is gruesome Dr. Grut, who wants to use the ray to turn humans into plants—so Grut's mind-controlled "Aberzombies" can rule the world! Floyd Gottfredson produced a canon of legendary tales starring Mickey as a bold, two-fisted hero: ready to wallop the walking dead... and face off with our wartime foes! You'll see Mickey's awesome role in the war effort, as he tackles Axis bad guys, Schickelgruber subs, and the treasonous Pegleg Pete! Meanwhile, back home in Mouseton, Goofy adopts... a man-eating lion?!
About the Author
---
Hired as a short-term replacement on the fledgling Mickey Mouse daily strip in 1930, Floyd Gottfredson (1905–1986) went on to draw the feature for the next 45 years. He created the most famous Mickey tales ever told in print. He is a Disney Legend and was inducted into the Will Eisner Award Hall of Fame in 2006.

David Gerstein is a comic book writer/editor and animation historian specializing in the Disney Standard Characters. His books include Mickey and the Gang: Classic Stories in Verse and Walt Disney Treasures—Disney Comics: 70 Years of Innovation. He lives in New York City, NY.
Praise For…
---
The... reprint of Mickey Mouse dailies really stands out for its critical material. The editors here have an acute sense of historical context and the oblique relationship the Disney adventure strips had to the Great Depression and World War II. ...[T]he Gottfredson reprints really demonstrate how much contextualization enhances a reprint project like this.
— Steve Smith